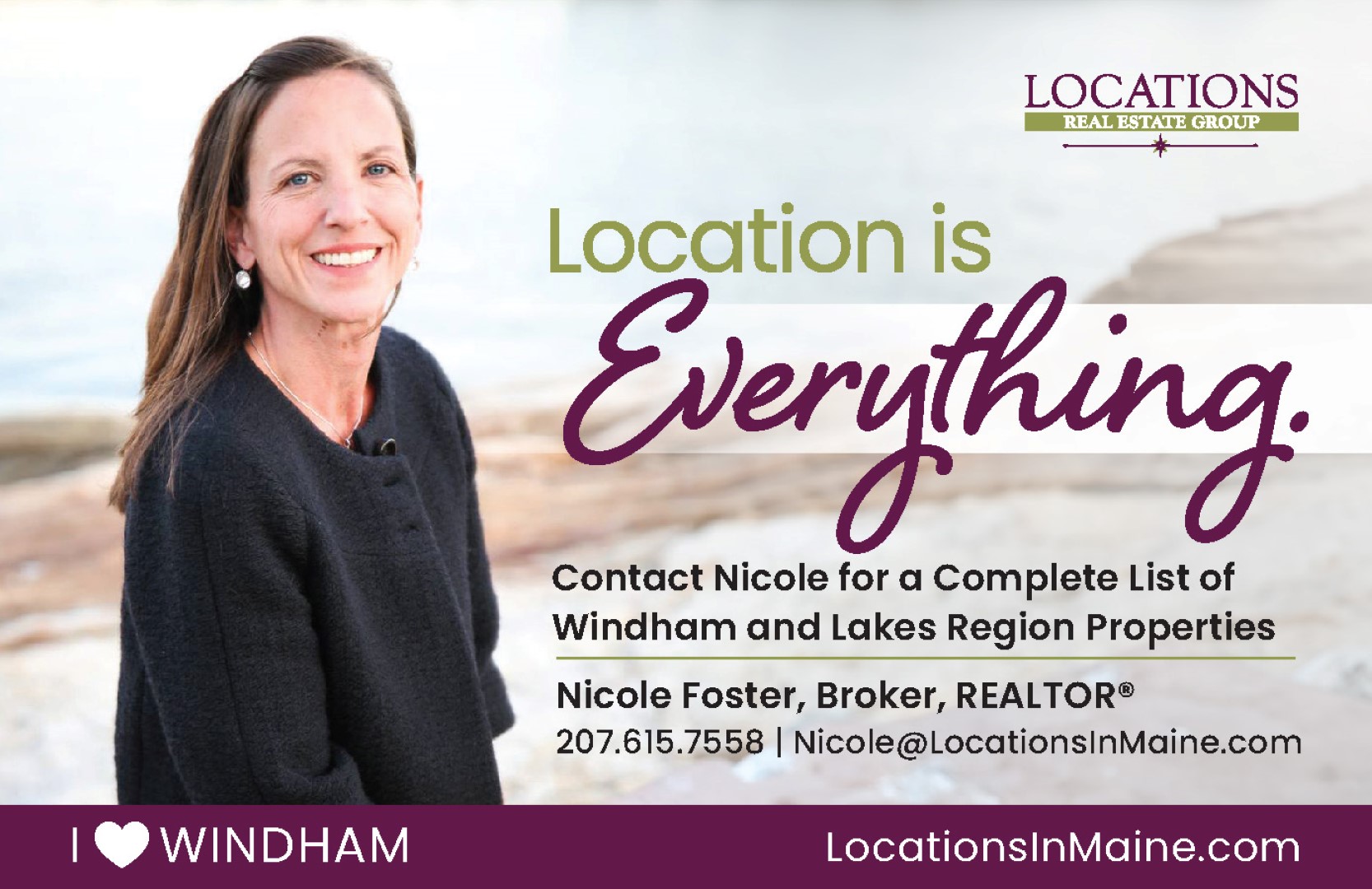 By Nicole Foster, Broker/ REALTOR
In August the zip code 04062, which covers the majority of Windham, was ranked by Realtor.com's Hottest Zip Codes of 2021 as #15 of the nation's 42,000 zip codes. Rankings were based on sales data from January through June of this year using an algorithm including two factors: market demand as measured by unique viewers per property and the number of days the listing remained active on the site.

The top 10 zip codes in the report show there is a huge demand for buyers wanting to get further away from densely populated urban areas. Half of the 50 zip codes listed were located in the northeast and all shared similar market conditions with homes selling fast and limited inventory.
This year in Windham the average number of days on the market for listed homes is only 5 days and the homes on average are selling for over 107 percent of their list price. What this means is the average list price for Windham single family homes this year is up to $349,900 but they then are closing out and selling for closer to an average of $375,000.
The overwhelming majority of the single-family homes purchased in Windham this year have used Conventional financing with only just over 15 percent being cash sales. The number of buyers using government backed loan products such as FHA, VA or Rural Development combined is just over 10 percent. With climbing home prices some prospective buyers may be pushed out once mortgage interest rates reach 3.5 percent on a 30-year fixed mortgage as the economy improves and inflation rises, likely by next spring. If both home mortgage interest rates continue to creep up while home prices continue to rise we could see less competition next year, but the inventory has remained so tight it could have little impact.
For years now we have been working around limited inventory, but the pandemic has caused this issue to soar to new heights. So far this year the number of listed, single-family homes in Windham which have sold both below $200,000 and over $900,000 are exactly the same with only 7 homes selling in each of those two contrasting price points (as of 8/23/21). This number would be far greater if our current supply of inventory could meet the growing demand of buyers who are currently shopping for homes. During the pandemic people began to upsize and look for larger homes offering more space. Loan applications for mortgages larger than $766,000 jumped to 55 percent while loan applications in the range of $150,000 - $300,000 fell by 2 percent according to Mortgage Bankers Association.
2021 Windham Single Family Home Sales
Sale Price Sold
0 - $200,000 7
$201K - $300K 31
$301K - $400K 71
$401K - $500K 42
$501K - $600K 15
$601K - $700K 4
$701K - $800K 3
$801K - $900K 2
$900K - $1million 2
$1M - $2M 2
Over $2M 1
Land sales across the state have continued to surge as buyers look to face less competition by building their dream home and developers look for ways to create more inventory. Total land sales year over year in Maine has jumped to a staggering increase of 138 percent. Many are speculating that the best way to meet the rising buyer demand for housing will be to build more homes, which will take some time. Those looking to downsize by purchasing a condominium will need to be prepared to face similar market conditions with possibly even tighter inventory and greater competition with sales increasing two-fold over single family homes so far this year.
If you are a homeowner currently struggling with the logistics of wanting to sell but not knowing where you will go, you are not alone. We have a growing list of "shadow inventory" of would be sellers who simply cannot find their next place and many are getting creative. This is a unique time for homeowners who want to capitalize on both the leverage and prices they can demand. Sellers might walk away with tens of thousands of dollars more than what they owe on their home by listing right now. These market conditions are creating life changing scenarios for some people, some will be able to retire sooner, pay off their college loans before they had planned or help their families more than they were prepared to. <
Nicole Foster is a real estate broker at Locations Real Estate Group in Falmouth specializing in single family residential new construction since 2006 and a Windham resident.