By Larry Eliason
Commercial real estate in Windham is in many ways very similar to residential real estate as it is a tangible asset you can see and touch. It is, however, very different in terms of how it can be valued by Broker® or appraiser, owned, financed and ultimately used by a commercial business entity.
Location is key since many commercial real estate tenants and owner users are looking for specific sites for high visibility, signage, traffic count, ample parking for customers and employees, as well as, sewer capacity for restaurants, daycares, salons, breweries, commercial kitchens, etc.
Other than a very small area in the South Windham Village that has public sewer, the rest of Windham is private septic systems. This is currently a limiting factor for attracting some types of businesses to the town due to the "high cost" of large private septic systems.
Zoning is a key factor in the decision-making process. Windham has a variety of zones that allow some level of commercial activity. The C1 commercial zone is one of the most popular zones as it allows the widest variety of commercial uses including construction services. It is also one of the more expensive zones for commercial real estate.
Other zones that allow some level of commercial uses are; C2 commercial, C3 commercial, ED (Enterprise Development) zone and I (Industrial) zone. There are currently on-going discussions with the Town Council, Economic Development, local business owners and citizens about adding uses such as construction services in other zones in Windham such as the C3 zone. The ED zone and the I zone may also be considered as the Town seeks to attract larger employers that could add a stronger commercial tax base and good paying jobs. It is a good idea to pay attention to Town Council, Planning Board and Zoning Board of Appeals actions as those actions can have an impact on value.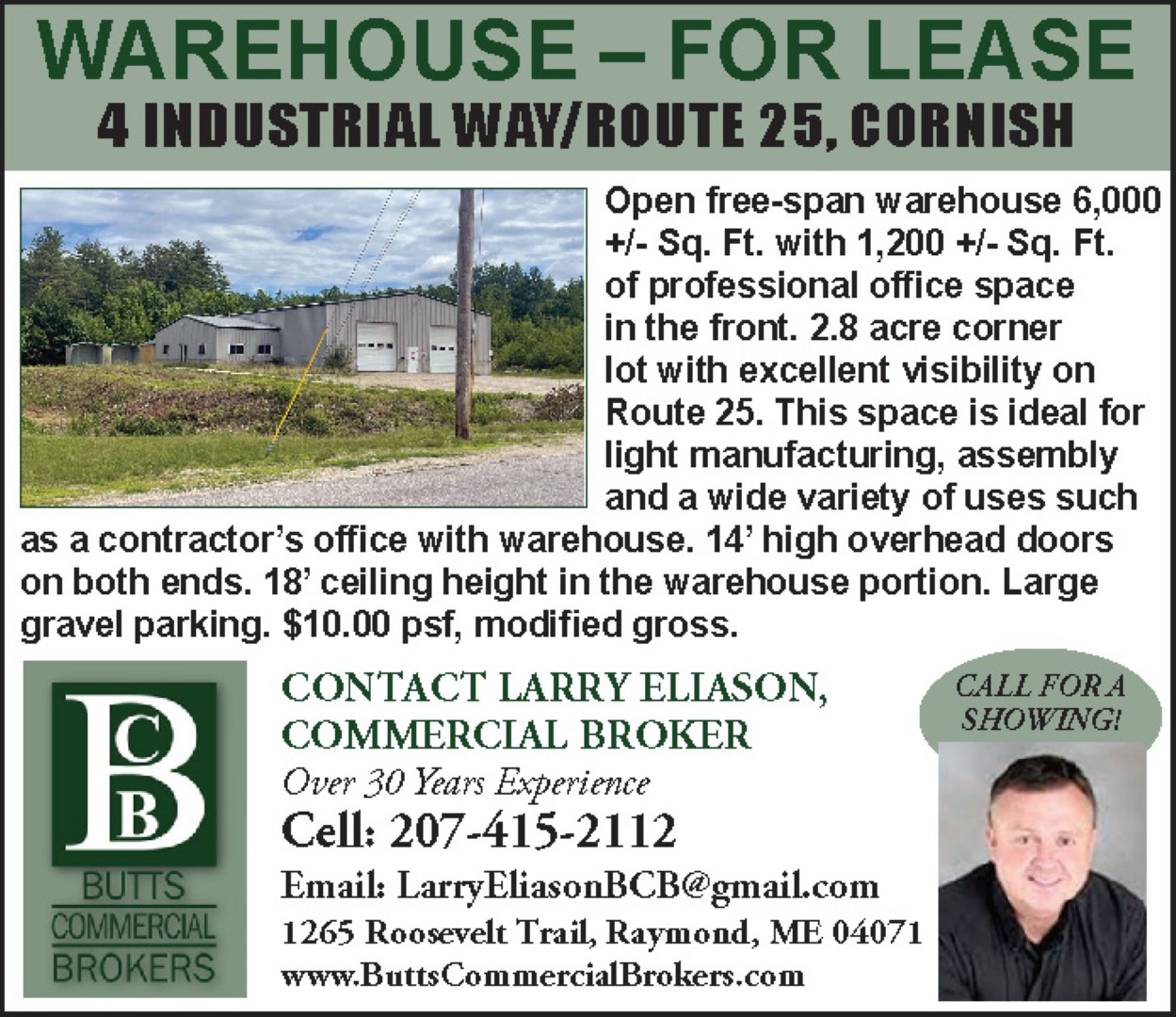 Regarding the valuation process, the comparison of similar properties sold can help gauge value on a per square foot basis.

Most of the time, commercial real estate is valued on an income approach; income less vacancy allowance, less other expenses, gives you a net operating income (NOI).
Dividing the NOI by a cap rate such as 10% capitalization rate (debt and equity), will give you an estimated value. And of course, the underlying condition of the building(s), location such as Rt. 302 exposure and possibly a corner lot at a signalized intersection, quality and length of leases all are factors when you are considering the purchase of a commercial real estate property.
Just like buying a home, you need to make sure the property is in compliance with town ordinances, state law and in some cases federal law. As part of your due diligence investigating the property, you should meet with town staff in code enforcement, planning and assessing to "trust but verify" any information you have received from the seller or seller's representatives.

And, I always recommend that a new business or developer coming to town take the time to meet with the Town of Windham's Economic Development Director to look for tools that may help make a deal happen in Windham.
Buying commercial real estate as well as leasing commercial real estate requires some added work with professionals. You should consider engaging a seasoned commercial real estate professional for a property search and due diligence.

In many cases, you will also want to engage a legal professional, accountant - tax specialist, land surveyor, civil engineer and possibly other specialty engineers depending on the size and scope of your commercial real estate project.
Just like in school, "Do your homework."
This article was brought to you by Larry Eliason, a commercial Broker with Butts Commercial Brokers in Raymond and serves the Greater Sebago Lakes Region.